Islamorada 31st Annual Island Fest –
Saturday & Sunday, April 1 & 2, 2023
Founders Park, Islamorada
The Islamorada Chamber of Commerce
Announces Osvaldo Fernandez as the
31st Annual Island Fest Poster Artist
Presented by the Islamorada Chamber of Commerce, the two-day Island Fest will offer live music, gourmet cuisine, vintage cars, and plenty of fine art and crafts. The festival takes place on Saturday and Sunday, April 1 & 2, at Founders Park.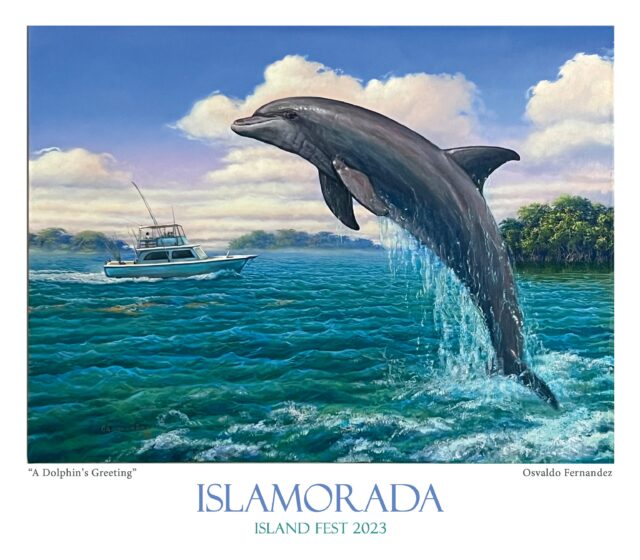 Recognized as this year's poster artist is painter Osvaldo Fernandez whose work A Dolphin's Greeting captures the joyful nature of this powerful and majestic mammal.
The Islamorada Chamber of Commerce is pleased to announce that Osvaldo Fernandez, a renowned local painter from Havana, Cuba, has been selected as the official poster artist for the 31st Annual Island Fest in Islamorada. Osvaldo, who works primarily in oil, is well–known in the Cuban art communities of Havana, Matanzas and Varadero.  His vibrant paintings have been exhibited in various galleries, and have even made their way into private collections in Spain, Italy, Mexico, Ecuador, Venezuela, and the United States. "We are so excited to have Osvaldo on board as the poster artist for this year's Island Fest," said Islamorada Chamber of Commerce Board President, Craig McBay. "His works are truly remarkable, and we look forward to introducing him to our community and showcasing his art." For the past 30 years, Island Fest has been a beloved tradition in Islamorada, drawing in thousands of visitors and locals alike. This year's festivities will include a variety of activities, from live music and art exhibits to a variety of food and beverage options. Osvaldo's poster will be officially unveiled at Island Fest and he will be available to sign them at Booth 1. His posters will also be for sale at the Chamber Booth, giving fans a chance to bring home a piece of the event.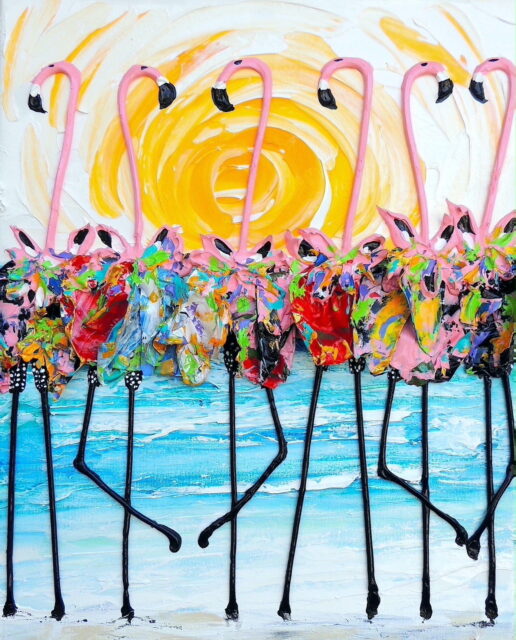 Also, among the participants is Lisa P. Young, an artist from Stuart, FL who has been passionate about art since she was a young girl. She is the daughter of a professional artist, and was trained early on in traditional drawing and painting skills. However, she wasn't particularly happy with this style of art and decided to pursue a career in the corporate world instead. After 24 years of working in business, she decided to take a mixed media course and was immediately hooked. She is now passionate about texture and movement in her work, and has been creating beautiful art for the past few years. She has exhibited her work in galleries, and her pieces have been collected by buyers from around the world. "Of all the elements of design I am the most passionate about, I would have to say – texture, then color."  "I am constantly searching for ways to bring my images up off the canvas." One of the ways Lisa does this is by incorporating the use of "dried acrylic paint skins".  Acrylic paint skins can come from recycling the paint off one's pallet or for larger needs, Lisa mixes, pours, and dries her own skins depending on the size and complexity of the project.  Once the moisture has evaporated, the resulting skin is a pliable film of paint that allows Lisa infinite possibilities to sculpt onto the canvas.  "It gives an amazing 3-D look that draws the viewer into the painting." "This extra dimension can be appealing, emphasizing the lushness and physicality of the paint itself."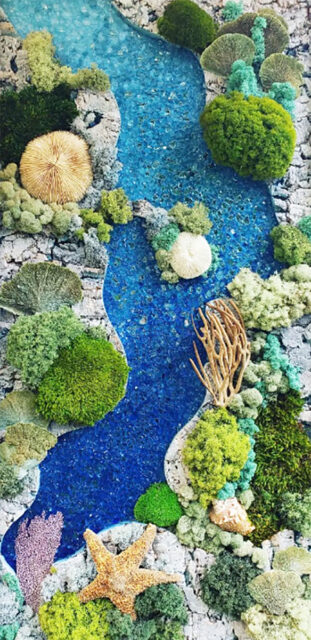 Our third featured artist is Stephanie Lavendar.  Transplanted to South Florida 35 years ago after graduating NYU, Stephanie's professional art career began creating art for apparel and home decor manufacturers. She turned her creativity towards interior and landscape design but returned to her true love, creating art!  Stephanie is now an award-winning artist and exhibits her work at some of the top fine art shows from Florida to the Hamptons with her Coastal Contemporary collection of highly dimensional, textural tropical inspired fine art.  She combines glass with cork, moss, shells, mushrooms and corals. She will have specially designed Keys inspired pieces at this years festival.  Facebook and Instagram #lavenderbluehomeandgarden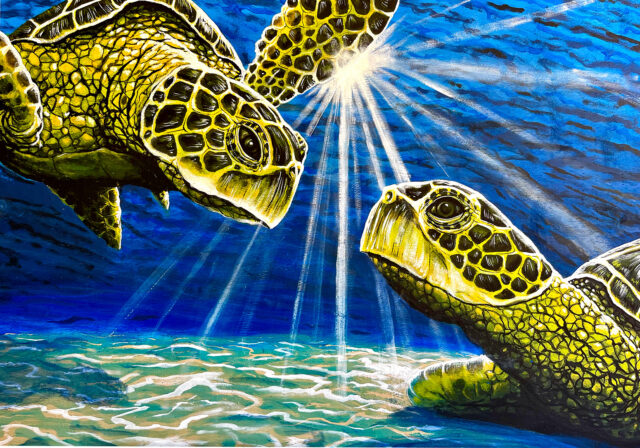 Our fourth featured artist is Mark Lewkowicz.  "I have always been artistic. Always one of the kids in the class that could draw and make a presentation look fancy. So I decided to pursue a career as an artist and went to the Art Institute of Fort Lauderdale." After graduating, Mark worked as an Art Director for a newspaper in Florida. While he enjoyed his job, he seldom had time to create works of art. "It was more like headlines and deadlines." In 1989 Mark met Ellen, a native of the Florida Keys, fell in love and married in 1990. That same year, he also started his own full service advertising agency. "While walking the dog one day, I saw a stack of wooden fence sections and immediately thought I would try my hand at painting a fish for our patio.  I was inspired by our many trips to the Keys and the artwork I saw there." Not only was Ellen thrilled with the Marlin Mark painted, but neighbors and friends wanted to see more. So, quite by accident, he started a new passion with his artistic abilities, creating sea life on reclaimed wood and canvas. Mark has attended art shows all over Florida. He continues to work at his craft and sells his work online and at various shows throughout the year, but his special place is in the Florida Keys. "See you at the show."
Admission to Island Fest is free and on-site parking is available for a $5 donation. The Islamorada Chamber of Commerce encourages the public to "Keep the Scene Green" and bring your own reusable drink container to reduce plastic use during the event. Events will take place rain or shine. Plan to bring your own lawn chairs and blankets for a comfortable, fun-filled day. For more information, call the Islamorada Chamber of Commerce at 305.664.4503.