Islamorada 30th Annual Island Fest –
Saturday & Sunday, April 2 & 3, 2022
Founders Park, Islamorada
The Islamorada Chamber of Commerce
Announces Derek DeYoung as the
30th Annual Island Fest Poster Artist
Presented by the Islamorada Chamber of Commerce, the two-day Island Fest will offer live music, gourmet cuisine, vintage cars, and plenty of fine art and craft. The festival takes place on Saturday and Sunday, April 2 & 3, 2022, at Founders Park.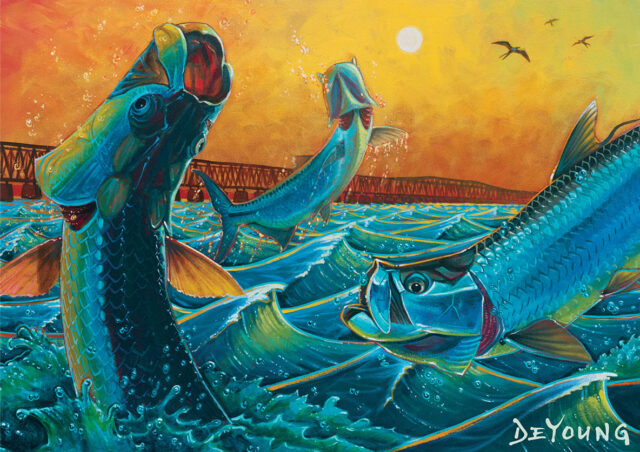 Recognized as this year's poster artist is painter Derek DeYoung whose work Tarpon at Play captures the joyful nature of this powerful fish. As a boy, Derek dreamt of one day living in the Florida Keys. Today, he spends the winter months in Big Pine Key and has done so for the last eight years. Beyond just living the island life, Derek worked extremely hard to master the art of catching flats gamefish on a fly, as well as capturing them in his unique and captivating style in acrylic paint on his canvases. "To be named poster artist for Island Fest has meant the world to Derek, as he truly considers the Florida Keys his home and is so honored to represent his fellow Keys artists this year for Island Fest," says his wife and partner, Janelle.
Derek was born on a bayou near the shores of Lake Michigan where his love of fishing was ignited. Over the years his art has veered from the classical fishing art, placing more importance on using a unique style and palette. Using oil paints on canvas, he artfully captures all the subtle intricacies fish possess; their patterns, dimensions and textures. In his artwork DeYoung is constantly pushing the limits by painting fish in beautiful and original ways.
"Ever since I can remember, my connection to the world and the people around me has been through my artwork. I was an average student at best in a family of overachievers academically, but my ability to draw and paint always kept my mom from worrying about me too much."
Admission to Island Fest is free and on-site parking is available for a $5 donation. The Islamorada Chamber of Commerce encourages the public to "Keep the Scene Green" and bring your own reusable drink container to reduce plastic use during the event. Events will take place rain or shine. Plan to bring your own lawn chairs and blankets for a comfortable, fun-filled day. For more information, call the Islamorada Chamber of Commerce at 305.664.4503.