CANCELLED- Islamorada 29th Annual Island Fest
March 28th & 29th 2020 – Founders Park, Islamorada
The Islamorada Chamber of Commerce  presents Artist Derek DeYoung as the 29th Annual Poster Artist for 2020 Island Fest.  The two-day Island Festival will offer live music, gourmet cuisine, vintage cars, and plenty of fine art and craft. The festival takes place on Saturday and Sunday, March 28 and March 29, at Founders Park.
Recognized as this year's poster artist is painter Derek DeYoung whose work Tarpon at Play captures the joyful nature if this powerful fish. As a boy Derek dreamt of one day living in the Florida Keys. Today, he spends the winter months in Big Pine Key and has done so for the last 8 years. Beyond just living the island life, Derek worked extremely hard to master the art of catching flats gamefish on a fly, as well as capturing them in his unique and captivating style in acrylic paint on his canvases. "To be named poster artist for Island Fest has meant the world to Derek, as he truly considers the Florida Keys his home and is so honored to represent his fellow Keys artists this year for Island Fest." says his wife and partner, Janelle.
Derek was born on a bayou near the shores of Lake Michigan where his love of fishing was ignited. Over the years his art has veered from the classical fishing art, placing more importance on using a unique style and palette. Using oil paints on canvas, he artfully captures all the subtle intricacies fish possess; their patterns dimension and texture. In his artwork DeYoung is constantly pushing the limits by painting fish in beautiful and original ways.
"Ever since I can remember, my connection to the world and the people around me has been through my artwork. I was an average student at best in a family of overachievers academically, but my ability to draw and paint always kept my mom from worrying about me too much."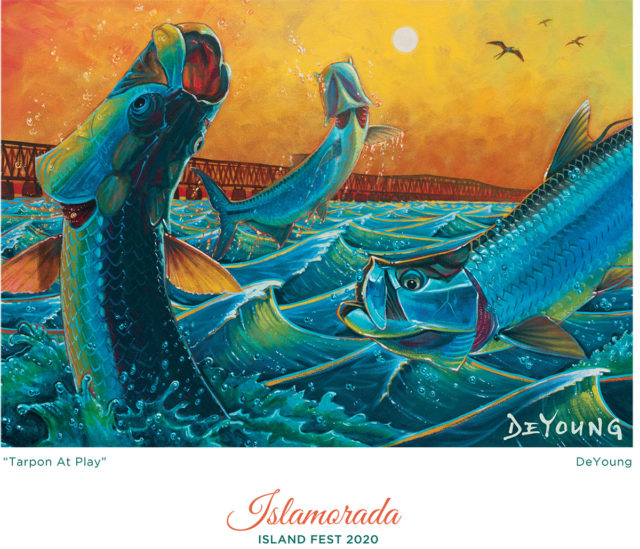 Also among the participants will be Kelly Tracht, lifelong Floridian and Jupiter local. Kelly Tracht's art brings the colors of the coast and nautical lifestyle to your home. At the age of 4, Tracht's mother set up a painting studio for her daughter who took to paint like a fish to water.
She pursued studies of artists through her teenage years pouring over books about Warhol, Matisse, O'Keeffe and Kahlo focusing her high school studies on painting, drawing and photography. Tracht first studied Fashion Design in college, excelling in draping and commercial fashion drawing. She later enrolled in undergraduate studies at the University of Cincinnati, and continued her formal training in art through foundational studies in drawing, painting and sculpture at UC's famed DAAP School.
Tracht eventually transferred to the University of Florida and enrolled in the school's well respected and rigorous program in architecture, what Tracht considers the "mother" of all arts. She was known among her fellow students for her freehand drawing skills as well as her artistic and sculptural approach to model building, often drawing inspiration from sculptors such as Henri Moore and Louise Nevelson when conceptualizing building models.  While at UF, she trained in Vicenza, Italy at the Vicenza Institute of Architecture where she was immersed in the traditional drawing methods of the Renaissance masters, studying live figure drawing, experiencing first-hand the respected tradition and significance of the live figure model in Italian culture and tradition of painting.
Tracht continued to pursue her architectural education and went on to win a merit-based teaching assistantship to complete her Masters of Architecture degree at Miami University in 2003.  While teaching graphic design to the incoming freshman architecture majors, she loaded up on formal art courses in fiber arts, ceramics and quilting, to round out her professional degree in Architecture.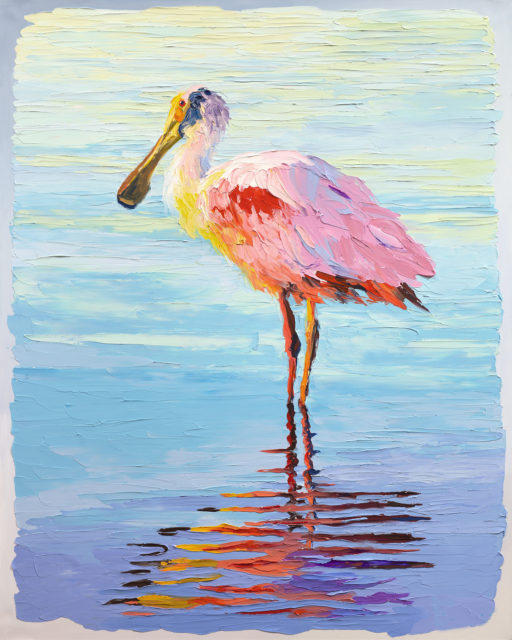 Our third featured artist is Jasmine Jones. Jasmine Jones is a local Key West artist who was born and raised in the Florida Keys. She grew up being exposed to all different types of art which fostered a deep love for anything creative. Jasmine is inspired by the colors of her Florida Keys home; the blues and teals of the Mud Keys in the back-country, the daily sunsets & sunrises and the unique wildlife that you encounter there.
Jasmine is an abstract painter that grew up immersed in color. "From the vibrant flora and fauna that thrive on the island, to the picturesque sunsets and ocean seascapes, there was always plenty for me to draw as a kid."
The colors that occur naturally in the Florida Keys have been her main inspiration for painting. Whether it's in the ocean or in the sky, the way the colors seamlessly blend and combine to create infinite and unique combinations is my favorite part of living in paradise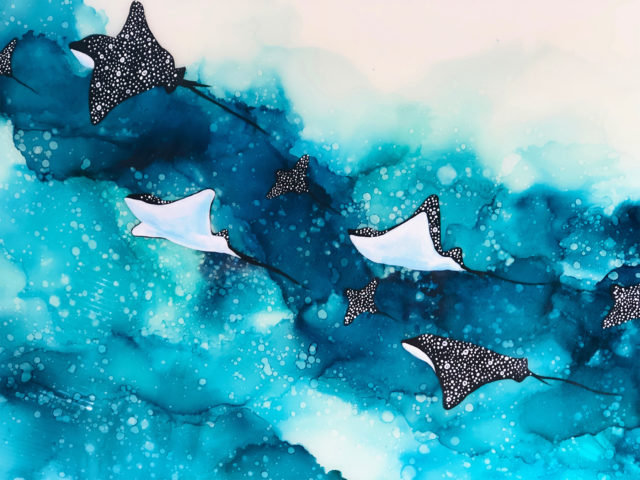 For those looking for tropical jewelry, one of the artists featured is Judy Ladd, Ladd, who makes hand-painted, porcelain-bead jewelry and porcelain tile wall art.  Ladd started out as a high school art teacher. Ladd, who also taught art at the University of Notre Dame, was teaching a high school ceramics class when the owner of a local shop asked her to try making jewelry to sell there. Ladd made her own beads from clay and had her students use the patterns on the bottom of their tennis shoes to create unique designs.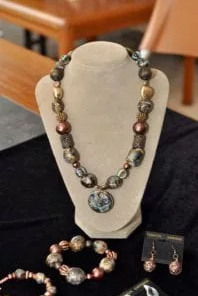 The Arts & Crafts Show is just one of Island Fest's many offerings. Other festivities include live music, a vintage car show, a homemade boat race, the Taste of Islamorada, and plenty of fun for the whole family!
It all happens at Founders Park, mile marker 87 bayside, on Saturday and Sunday, March 28th and 29th. Show times are from 10am-7pm on Saturday and 10am-5pm on Sunday, with a sunset beach concert going until 7:30pm on Saturday. Admission to Island Fest is free and on-site parking is available for a $5 donation. Bring your lawn chairs, blankets, and reusable water bottles for a fun-filled day in the Florida Keys. Events will take place rain or shine. For more information, call the Islamorada Chamber of Commerce at 305-664-4503.