Islamorada 27th Annual Island Fest
March 24 & 25, 2018 — Founders Park, Islamorada
Islamorada native Schroeder is Island Fest poster artist
Islamorada mixed media painter Anne Schroeder is poster artist for the 27th annual Island Fest.
Presented by the Islamorada Chamber of Commerce, the two-day festival will offer live music, gourmet cuisine, vintage cars and plenty of fine art. The festival takes place on Saturday and Sunday, March 24 and March 25, 2018, at Founders Park.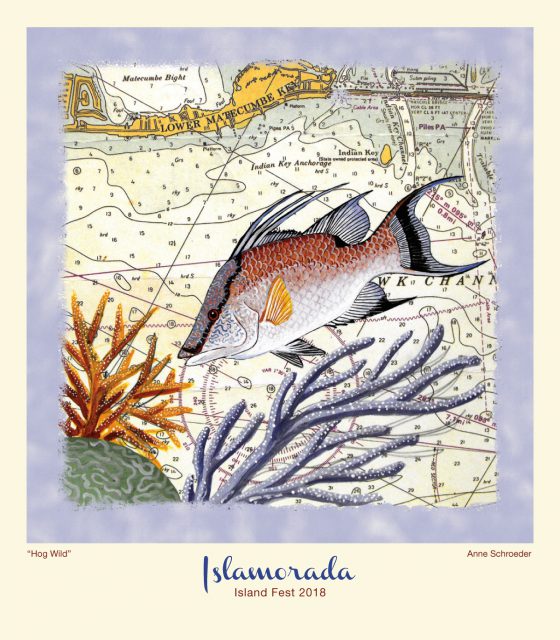 "It means a lot to me," Schroeder said of being honored as the poster artist six months after her Plantation Key residence was washed out by Hurricane Irma. "It's really nice to still be a part of the community."
Schroeder used a vintage chart of the Atlantic off Lower Matecumbe as the canvas for her poster piece, called "Hog Wild." Over the chart she painted a colorful hogfish. It's a homage to her childhood in the area, when her family used fishing to help fill the kitchen table.
Schroeder is just one of approximately 100 artists whose works will be on display at Island Fest. The juried Arts & Crafts show will feature local and national artists whose creations run the gamut from paintings and sculptures to jewelry and photography.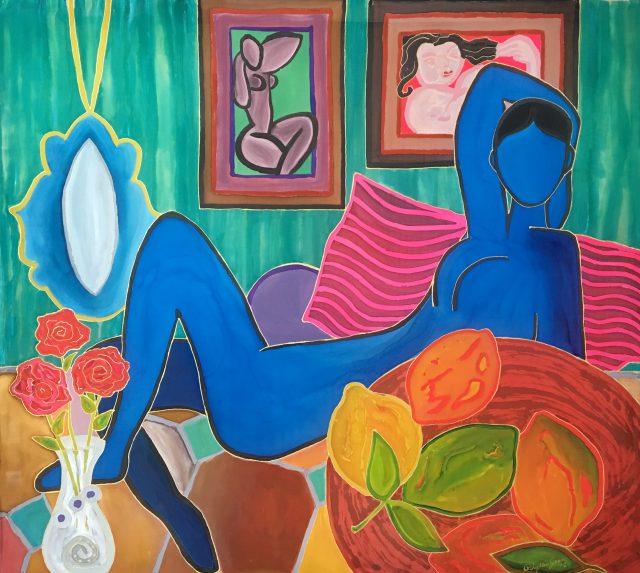 Also among the participants will be Phyllis Jean Bodie, who took Most Creative Artisan last year for her watercolor-on-silk painting "Anguilla."
This year Bodie will present underwater-themed watercolors and what she called her "Blue Nudes," in which the blue shadows of naked women are depicted over backdrops of locations around the world. "It's very subtle," she said.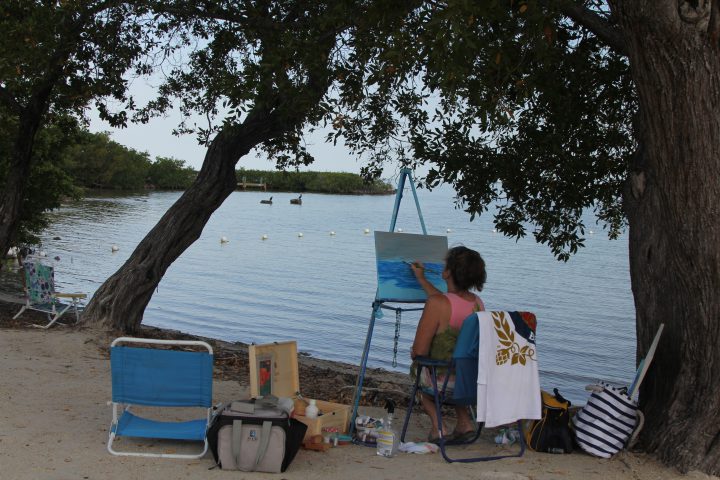 Augmenting the Island Fest art show for the second time will be the Plein Art Paint Out. During both days of the show, artists will set up at various venues, including the beach and near the music stage, where they will paint complete works live. The artists will then frame their creations before putting them up for sale near the Chamber of Commerce information booth.
The Arts & Crafts Show is just one of Island Fest's many offerings. Other festivities include live music, a vintage car show, a homemade boat race, the popular Taste of Islamorada competition and plenty of activities for children.
It all happens at Founders Park, mile marker 87, bayside on Saturday and Sunday, March 24 and March 25. Show times are from 10 a.m. to 7 p.m. on Saturday and 10 a.m. to 5 p.m. on Sunday. Admission to Island Fest is free and on-site parking is available for a $5 donation. Bring your own lawn chairs and blankets for a comfortable fun-filled day. Events will take place rain or shine. For more information, call the Islamorada Chamber of Commerce at 305.664.4503.