18th Annual Islamorada Holiday Fest
Save the date . . . . Friday, December 2, 2022
Founders Park, Islamorada
Holiday Fest Returns to Founders Park Beach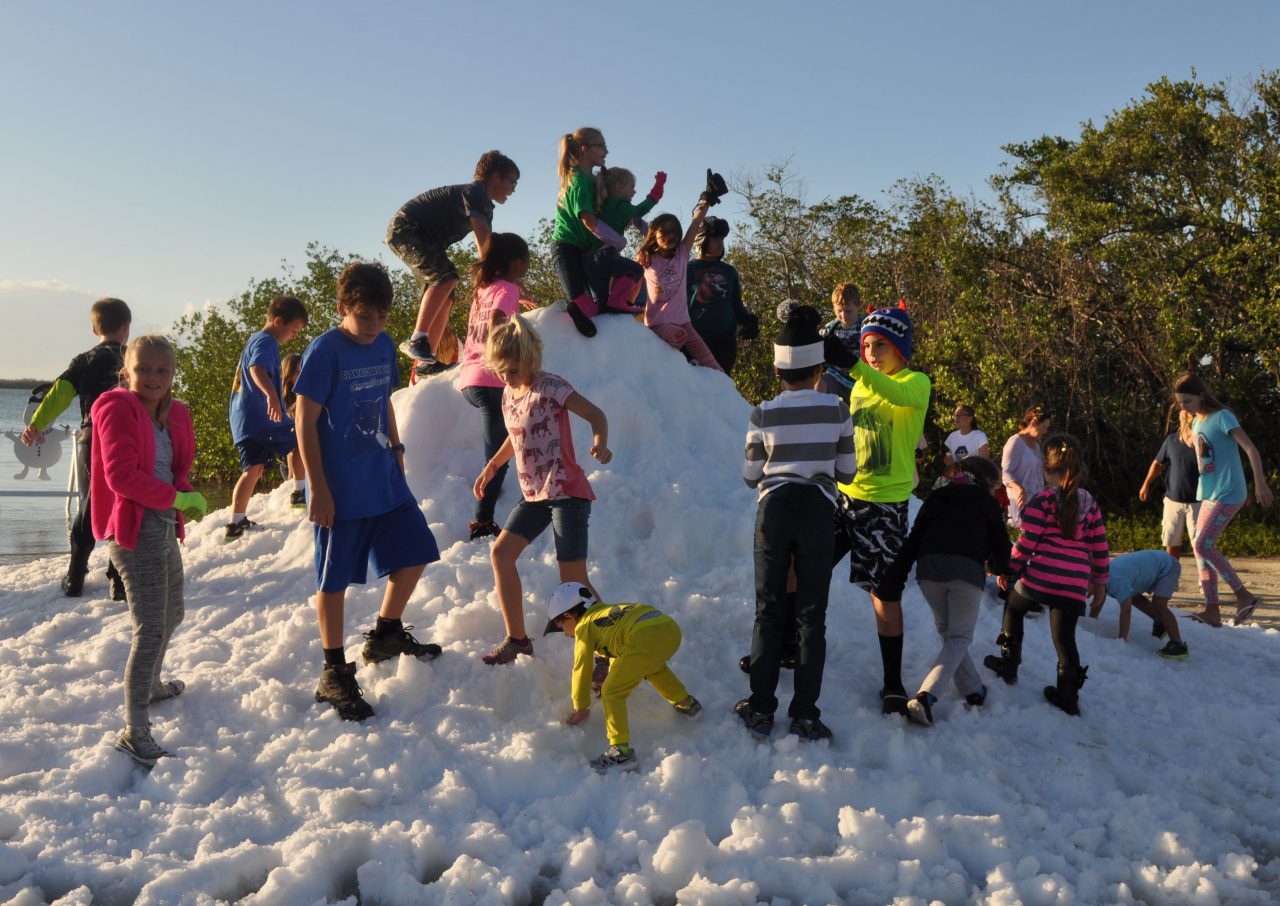 The forecast calls for lots of snow during the 18th Annual Islamorada Chamber of Commerce Holiday Fest, set for December 2, 2022, from 4-10pm, at Founders Park.
"Bundle up for one of the most exciting community events on the calendar," said Chamber of Commerce President Christina Steele. "This will be a great time for everyone to kick off the holiday season."
The event's star attraction, the Holiday Fest Snow Mountain, will once again be made out of 30 tons of the cold white stuff — more than enough to delight mitten-clad children and some of their more playful parents too. Meanwhile, throughout the evening, Islamorada's 35-foot high official holiday tree will be blowing magical snow through its branches.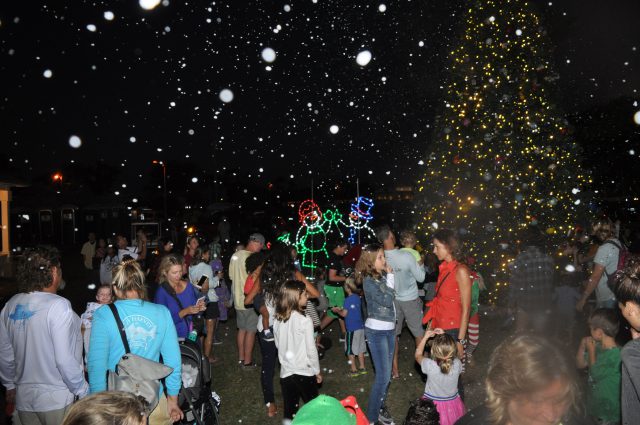 Snow is far from the only thing promised at Holiday Fest. At 7:30pm, the Holiday Parade will kick off with floats, antique cars and, of course, Santa himself.
The festival also offers the unique Holiday Gift Bazaar, perfect for getting the shopping season started right. A popular feature of the Bazaar is the silent auction of handcrafted ornaments. In preparation, 50 local artists are already creating original holiday treasures starting from a blank ceramic mold. The finished pieces will be on display throughout the evening. The silent auction is scheduled to end at 9:00pm. The Bazaar also features jewelry and crafts.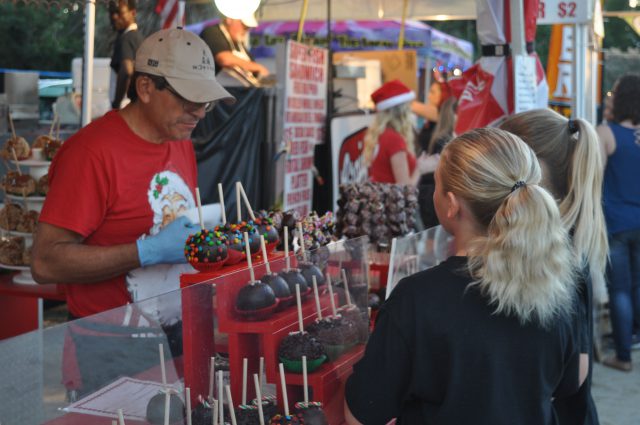 Returning to the festival this year is Santa's Sweet Shoppe, featuring a delectable selection of gourmet desserts and coffee. A wide variety of more savory food will also be on offer throughout the evening.
The Chamber of Commerce is seeking more entrants for the Holiday Parade. For information, or if you would like to volunteer at Holiday Fest, call 305-664-4503 or stop by the Islamorada Chamber of Commerce & Visitors Center at mm 87, bayside.
Holiday Parade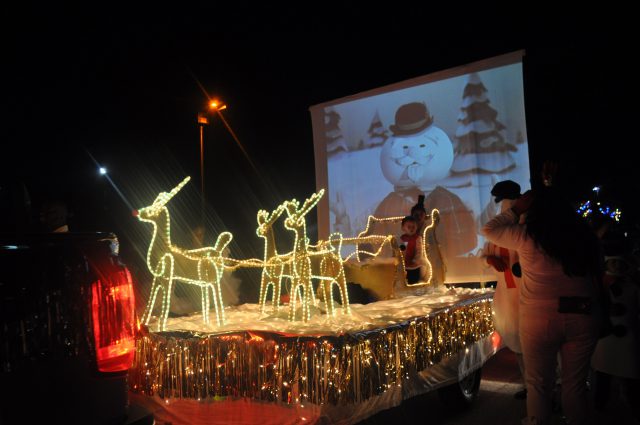 The parade, part of the Chamber's 18th Annual Islamorada Holiday Festival, will begin at 7:30pm that Friday evening, and will take place inside Founders Park.
Bands, antique car groups, scout troops, churches, businesses and other organizations or individuals who are interested are encouraged to enter. Judges will select winners in several categories based on creativity and adherence to this year's theme: Celebrating the Holidays through the Centuries (1823 – 2023) – Florida Keys 200th Anniversary.
In addition to the parade, Holiday Fest features visits and photos with Santa, a 30-ton snow mountain, a 35-foot tree blowing magical snow from its branches, the Holiday Gift Bazaar, delicious food and beverages, live holiday stage performances and scrumptious desserts and coffee at Santa's Sweet Shoppe.
For more information on the parade, please call the Islamorada Chamber of Commerce & Visitors Center at 305-664-4503.
Gingerbread House Contest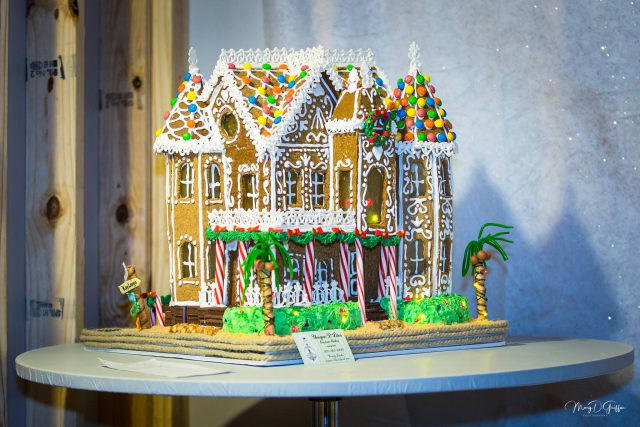 The festival will feature a gingerbread house contest and auction. 1st, 2nd, 3rd and People's Choice entries will receive ribbons. Entries will be on display throughout the festival and proceeds will benefit the CSHS Culinary School.
Mister Gingerbread Man and Miss Sugarplum Fairy Contest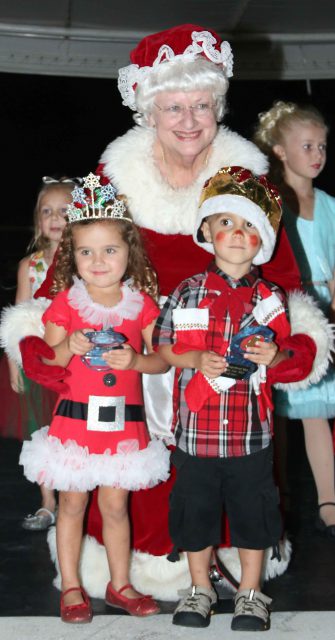 The Chamber is seeking contestants for this year's Mister Gingerbread Man and Miss Sugarplum Fairy contest, which will take place at 5:00pm. Contestants must be under 8 years old and dressed up in their holiday outfit. They will be invited on stage to meet Mrs. Claus and tell her a holiday wish. One boy will be crowned Mister Gingerbread Man 2022 and one girl will be crowned Miss Sugarplum Fairy 2022. For more information, please contact the Chamber at 305-664-4503.
Ornament Competition to Add Color to Holiday Fest
Fifty artists are expected to paint their original holiday ornaments for the silent auction to be held at the 18th Annual Islamorada Holiday Fest on Friday, December 2, 2022. The festival will last from 4 to 10pm that evening on the beach at Founders Park.
In preparation for the silent auction, which is part of the festival's Holiday Gift Bazaar, each artist was given an unfinished ceramic piece to use as the base for his or her creation. Beyond that, the only design limit is their imaginations.
The finished pieces will be judged and on display throughout the festival, where they may be purchased by silent auction bids. Bidding will end at 9:00pm that evening. A portion of the proceeds from the auction will benefit the local arts community.
For more information regarding the 2022 Islamorada Chamber Holiday Ornament Auction, please call the Chamber at 305-664-4503 or stop by the Visitor Center at the entrance to Founders Park. We can always use volunteers and helpers; please call if you can help!