Islamorada 27th Annual Island Fest
March 24 & 25, 2018 — Founders Park, Islamorada
Sunset concert is latest addition to Island Fest
Island Fest's first ever Beach Sunset Concert will highlight two days of live music at Founders Park late this month.
Artists specializing in blues, folk, classic rock, island melodies and more will also take the stage at the 27th Annual Island Fest, presented by the Islamorada Chamber of Commerce. The two-day festival, which also features The Taste of Islamorada, a gourmet food competition, a vintage car show and roughly 100 artists from around the country showcasing and selling their goods, will take place on Saturday and Sunday, March 24 and 25, 2018.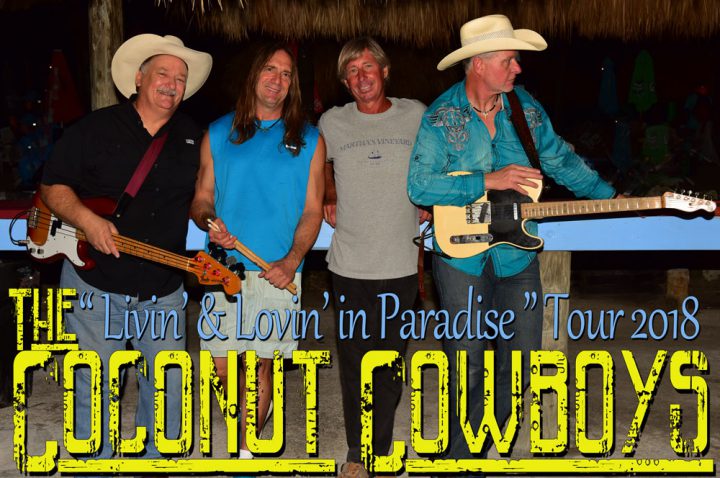 All-purpose band Coconut Cowboys will take the stage for the Beach Sunset Concert at 5 p.m. Saturday.
"We are Hank Williams meets ACDC meets Metallica and go back and get some Lynyrd Skynyrd," explained lead singer and guitarist Dan Furmanik, who splits his time between Key Largo and Hendersonville, Tenn. "We are everything."
The concert is scheduled to end at 7 p.m. that night, but if Furmanik has his way it could well go longer. Last month Coconut Cowboys played for four and a half hours at the Oceanview Inn without so much as a break, he said.
The start of Island Fest's live music line-up will come shortly after the event's 10 a.m. kick-off on March 24. Among that Saturday's daytime performers will be Island Fest staple I-Land Vibe, playing their trademark feel-good reggae and calypso-style tunes.
"We're an island band," head musician Rayner Washington said. "So we perform popular American songs with an island twist. And we promise you'll leave feeling happy."
Also on Saturday, making their Island Fest debut, John Ciulla and Ray Jaworski will kick off the event featuring music from both of their music worlds.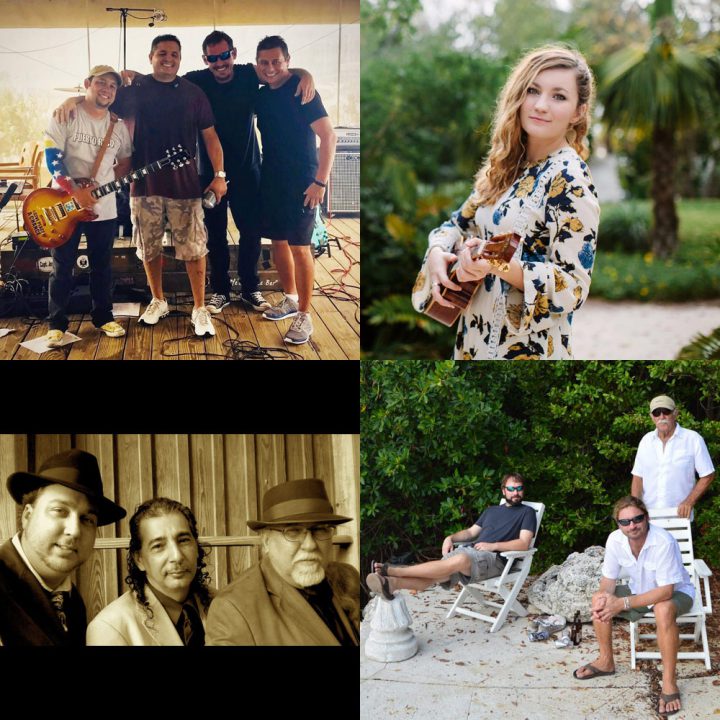 Clockwise from upper left: Static, Leah Sutter, the Carousers, and the Pitbull of Blues Band
Saturday would not be complete with out some serious rock and roll to get the beach hopping "Static" is promising to do just that filling the afternoon with songs that make you want to move and groove with the music.
Sunday's entertainment will kick-off with the melodic voice of Islamorada-based acoustic pop guitarist Leah Sutter. She'll be followed on stage by The Pitbull of Blues Band. Band leader Josh Rowand will play his raucous guitar while local artist Pasta Pantaleo paints to the rhythm.
The Americana rock band The Carousers will close out the music fest Sunday afternoon.
Featuring music, art, food, classic cars and fun, Island Fest offers something for everyone. Admission is free and on-site parking is available for a $5 donation. For more information, contact the Islamorada Chamber of Commerce at 305.664.4503.